Tickets for the 12th annual Bald Eagle Bash – a Party for Preservation – are on SOLD OUT!
If you are coming from Mobile for the Bash, there is a $10 roundtrip shuttle bus option. If you would like a bus pass, please call 251-990-5004. Shuttle will leave at 3pm from Braided River Brewing on St. Louis Street in Downtown Mobile and leave the event at 7pm to return by 8pm to Braided River Brewing in Mobile.
This year, we also have a commemorative t-shirt for $25! Click here to view and order the Bash t-shirt featuring an eagle soaring over a longleaf pine forest, or purchase at the day of the event (while supplies last).
For the first time, this year's Bald Eagle Bash will feature for TWO local bands to entertain and keep us on our feet. Ross Newell, lead singer from The Mulligan Brothers, one of the most popular Bash bands back in the day, will open, followed by Paw Paw's Medicine Cabinet. This will be Paw Paw's first appearance at the Bash!
The following participating restaurants will be serving up local gulf shrimp from Bon Secour Fisheries! Blue Marlin Restaurant, Chef Cassie Personal Chef Services, Divine Empanadas, Dragonfly Foodbar, The Gulf Coast Culinary Institute, Hope Farm, Master Joe's, Provision, Sunset Pointe, Little Coastal Kitchen, Moe's BBQ, Tin Top, and Wok by d'Bay. Additionally, there will be the infamous hotdogs from Dew Drop Inn, and desserts from Warehouse Bakery! 
Beverages for Bash will include red or white wine options from M&J wines, and Pinnacle Imports. Cool down with Beer Here Now and Hang Loose beers from Braided River Brewing, and I Drink Therefore I Amber and Bald Eagle Blue from Fairhope Brewing!
Bald Eagle Bash is South Alabama Land Trust's principal fund raiser, and provides revenue for land, water, and wildlife protection, along with education and outreach programs. With the help of business and individual sponsors, Bald Eagle Bash has earned more than half a million dollars to protect the land for all living things.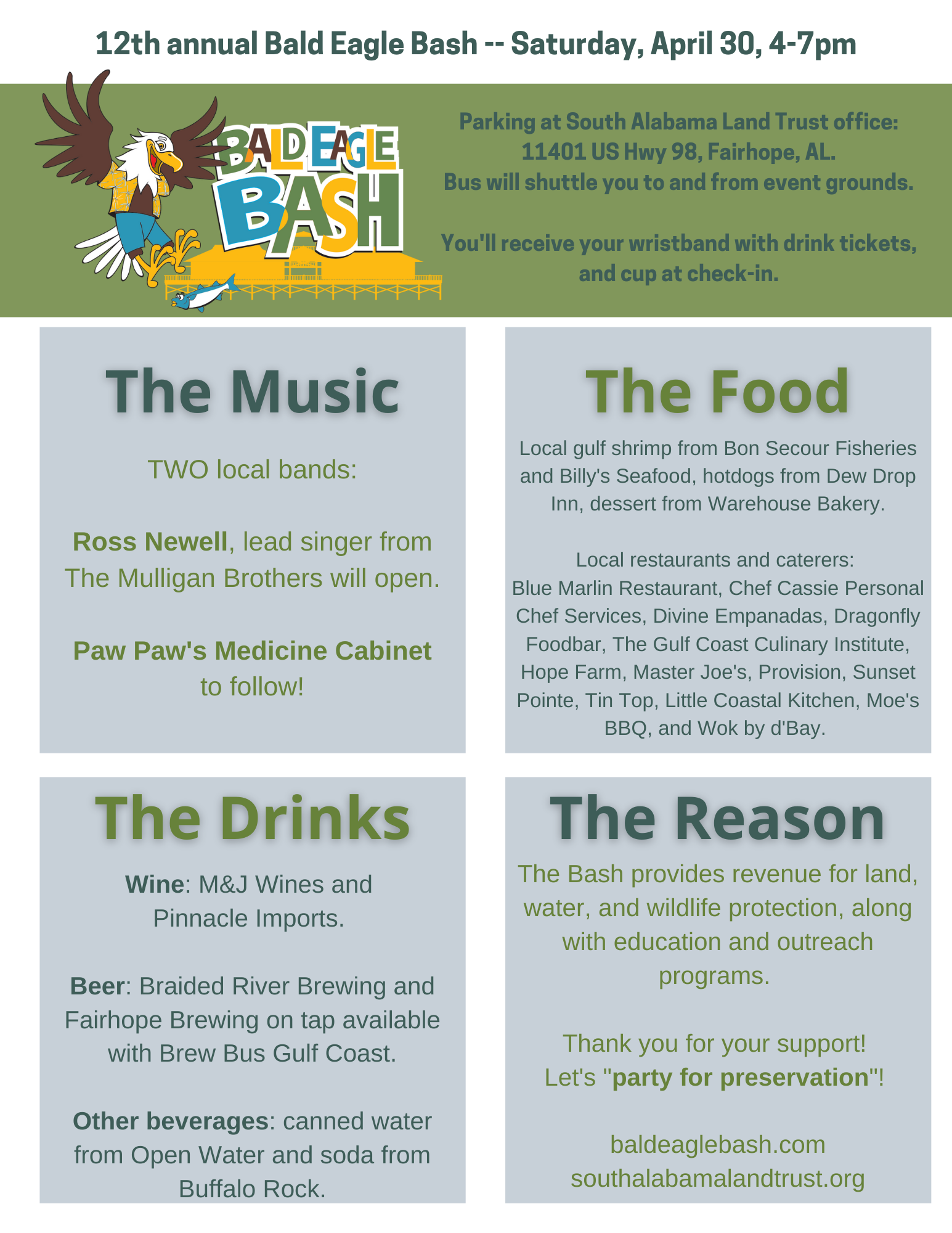 Blue Heron Sponsors – $2500
Ed & Melinda Aldag
Coastal Land Trust
Jeff and Patricia Hudson – HRG Architects

Bobwhite Sponsors – $1000
Steven W. Kinsey, MD, FACS
The James Emmett Family
Weeks Bay Watershed – Yours to Protect
WSP USA
Friends – $250
Allegri Farm
Coastal Outfitters
Shawn and Holly Alves
Ebert Agency
Goodwyn Mills Cawood, LLC
Walter Kirkland and Judy Culbreth
McCoy Outdoor Co.
Mr. and Mrs. Erling Riis III
Hand Arendall Harrison Sale
Happy Harbor Marina
Nature Connect Outdoor School
Peturis Farm, LLC
Riverview Turf
Rogers & Willard, inc.
Shoemaker Gynecology
SmartBank
SouthState Bank
Termac Construction
Mike Thompson
Trustmark Bank
Valbridge Property Advisors
Vulcan
Phil and Kara Wilbourn
Wetland Resources
Y Weeks Community Association