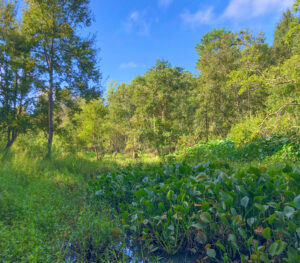 Monitoring encounters from the field
By Darrel Williams, Land Coordinator
As the land coordinator for SALT, one of my favorite duties is monitoring the properties we've committed to protect. To give some perspective, I began my career in England working in aerospace engineering, and I spent my free time traveling to remote parts of the world, devoting my salary to wilderness exploration. My adventures inspired me to undertake a degree in natural science so I could spend more time studying nature and less time in the industrial world. After trekking many of the world's wildest jungles, I found myself in Fairhope, Alabama. I was taken aback by the homey feel of the area, but I was more blown away by how this pleasant town was surrounded by ecosystems that could challenge even the Amazon in biodiversity. 
Monitoring SALT protected properties comes with a massive sense of satisfaction. Once a land parcel has been protected by SALT, either through ownership or conservation easement, the property is added to our annual monitoring list. Monitoring allows me to form
 a report emphasizing any signs of encroachment, presence of invasive species, significant natural occurrences, and the presence of noteworthy or threatened species. I occasionally monitor larger landscapes via drone, but typically, eyes on the ground are most effective.
In the summer months, I average three steps to every spider in my face, whilst slapping biting yellow flies off my back and hacking my way through thick brush with a machete. Regardless of the challenges, summertime monitoring comes with enormous reward. In this sub-tropical climate, the flora and fauna thrive in the hot, humid conditions, making it a great time to spot the most exciting wildlife and easily identify invasive plant species by their leaves, flowers, or fruits.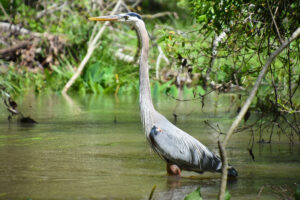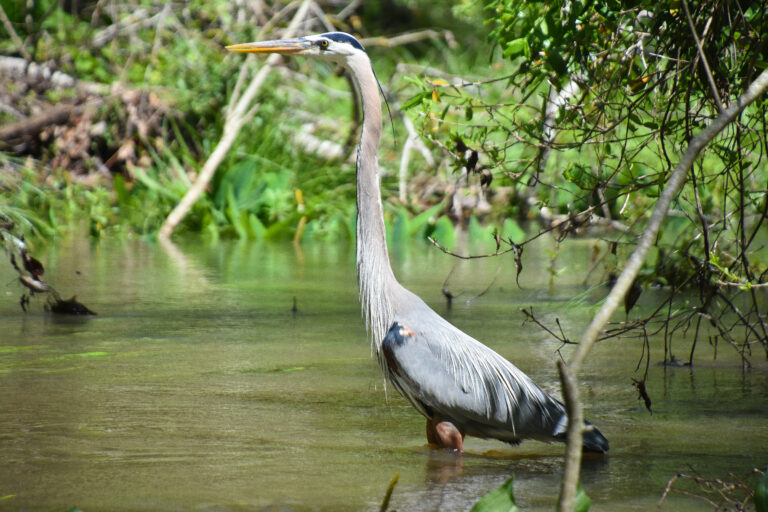 A property that particularly fascinates me is Owen's Bayou, a tributary to Wolf Bay. When monitoring this parcel, I'm armed with a GPS device, a camera, and chest high waders. The intriguing aspect of this property is that residential neighborhoods and main roads, sit just moments away from a wetland wilderness. Each visit gives a different experience. During dry periods, I'm able to walk up to Owen's Bayou and see a defined stream with luscious vegetation along the surrounding riparian woodlands. In the wetter periods, only too common in the summer months, I can be wading chest deep through a completely saturated forest; it's a truly dynamic wetland that's uniquely stunning in each condition. I'm always in my element here, analyzing the species around me, taking mental notes and snapping shots of interesting finds.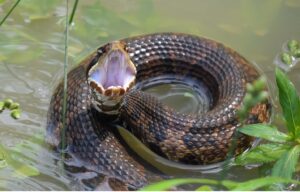 It was wading through Owen's Bayou when I encountered one of the largest cottonmouths I'd seen to date. As I approached the eastern parcel boundary, waist deep in water, I was met by an enormous cottonmouth that was obviously surprised to see me. The snake coiled up and stood its ground, opening its mouth and shaking its tail to warn me off. With deeper water to my left and thick vegetation to my right, the fastest way to dry land was forward. Being no stranger to these types of encounters, I broke off a stick and cautiously moved the snake toward the vegetation and out of my path. Once the snake felt safe in the vegetation, it disappeared out of sight. I often find this is the way with cottonmouths; people talk about their aggressive nature, but in reality, it's all a show to be left alone.
Ironically, I see moments like these as the highlights. It's always exciting to see wildlife up close in its natural habitat and it makes for an interesting monitoring report back in the office.