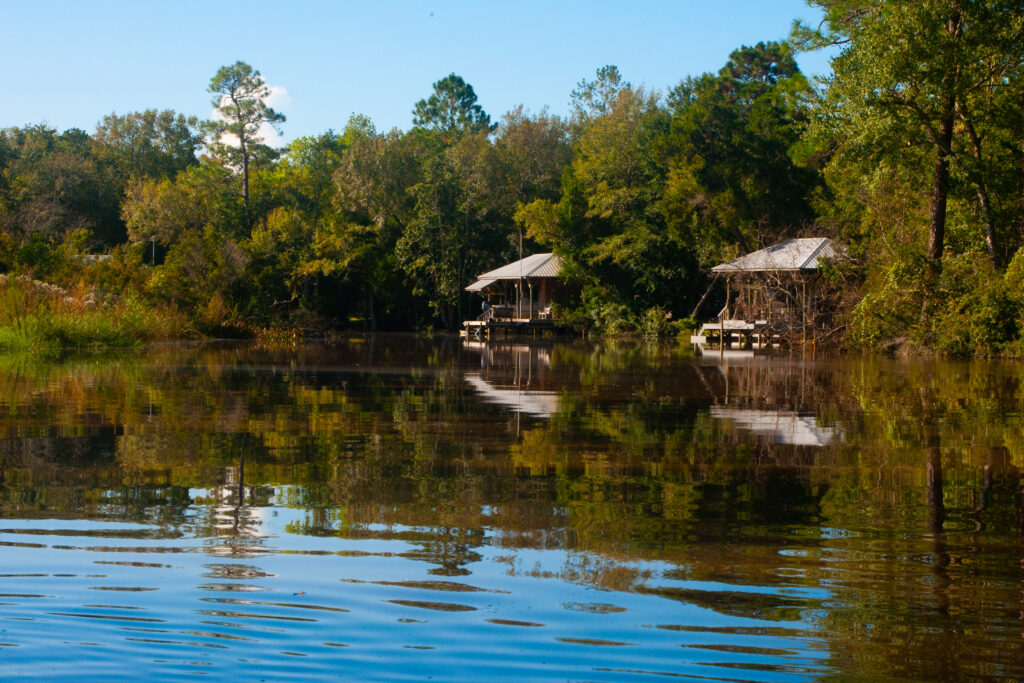 For immediate release
September 8, 2020
Contact: Diana Brewer, Development and Communications
251-990-5004 / diana@southalabamalandtrust.org
A Real Gem – Holmes Property Becomes a Legacy of Preservation
A 91-acre parcel with almost a mile of shoreline on Magnolia River will be protected forever, thanks to the Broox Holmes family, South Alabama Land Trust, and the Alabama Department of Conservation and Natural Resources (ADCNR).
"We are very pleased that after all these years we can preserve it for generations to come," Broox Holmes said of the decision he and his brothers, W.C. Holmes, Jr. and James Holmes, made to protect their Magnolia Springs riverfront property from development. "It's good for the community.
"We decided that would be a good thing," he continued. "It will help our children and grandchildren. And ultimately, it will be a good thing for the community. Everyone can enjoy it. We're pleased that everyone can enjoy it in its unique, pristine state. The good thing is, not much of it is wetlands. It can be walked on and enjoyed."
South Alabama Land Trust, along with ADCNR, the Weeks Bay National Estuarine Research Reserve, and the Holmes family, had been working on the project for years. The Holmes property is surrounded by Weeks Creek to the south and Bemis Bay to the north, and is a combination of tidal marsh and uplands It will play a major role in the long-term preservation of Magnolia River.
"The closing of the Holmes property last week was the culmination of a decades-long effort to purchase and protect this outstanding tract," Skipper Tonsmeire, founding board member of SALT said. "This property has been in the Holmes family for generations (roughly 80 years). We would like to thank Connie Whitaker, Daniel Galbraith, Leslie Weeks, board president of SALT (formerly Weeks Bay Foundation), and Yael Girard for their dedication over the years."
Will Underwood and Jeremiah Kolb with ADCNR and the Weeks Bay Reserve were instrumental in obtaining the funding to facilitate  this purchase, Tonsmeire added. "This property will be held by the State for use by Alabamians and their successors in perpetuity."
"In general, ADCNR and the Reserve are always looking for significant pieces of land," Underwood, State Lands Section administrator for ADCNR and acting manager for the Weeks Bay Reserve said. "But the Holmes property is one of those pieces that sticks out as a real gem. It's one of the largest pieces of undeveloped land in the area. It has a diversity of habitats, so it's got a lot of habitat value. Even though it has a lot of waterfront, is also has a pretty high elevation."
 "I grew up in Foley," Holmes explained. "My father moved to Foley when it was a new town. He moved from up north – Tensaw." He said the fair market value payment the family received is going into a trust for his and his brothers' children and grandchildren. Underwood praised the Holmes family for their foresight in ensuring the land will be protected and said they will be recognized for their efforts.
"Yes, they are being compensated at fair market value, but had they subdivided it, there's no telling how it would have ended up. So, this is a great thing they're doing." Underwood said. Now it will be managed and preserved, with the initial plan being to provide opportunities for passive recreation there, most likely hiking trails and a kayak access.
After surveying the property, a full plan for its management and usage will be developed. Underwood said the initial efforts would include a bio blitz to investigate the plant and animal species present, a mapping of any existing trails and roads on the property, and the introduction of fire management.
"That's the beauty of this parcel," he said. "Even with no management plan in place yet, just the introduction of fire can help it flourish."
"There is a delicate balance between land we'd love to preserve and our ability to be good stewards of it," Underwood explained. There is also the issue of timing. Having the land trust as a partner to take advantage of property acquisition opportunities while those and other decisions are made is a huge asset, he said.
"We have to bide our time, depending on the funding sources. There are a lot of i's to dot and t's to cross." Having South Alabama Land Trust "in the chain of ownership," he said, is critical to attaining and protecting gems like the Holmes property.